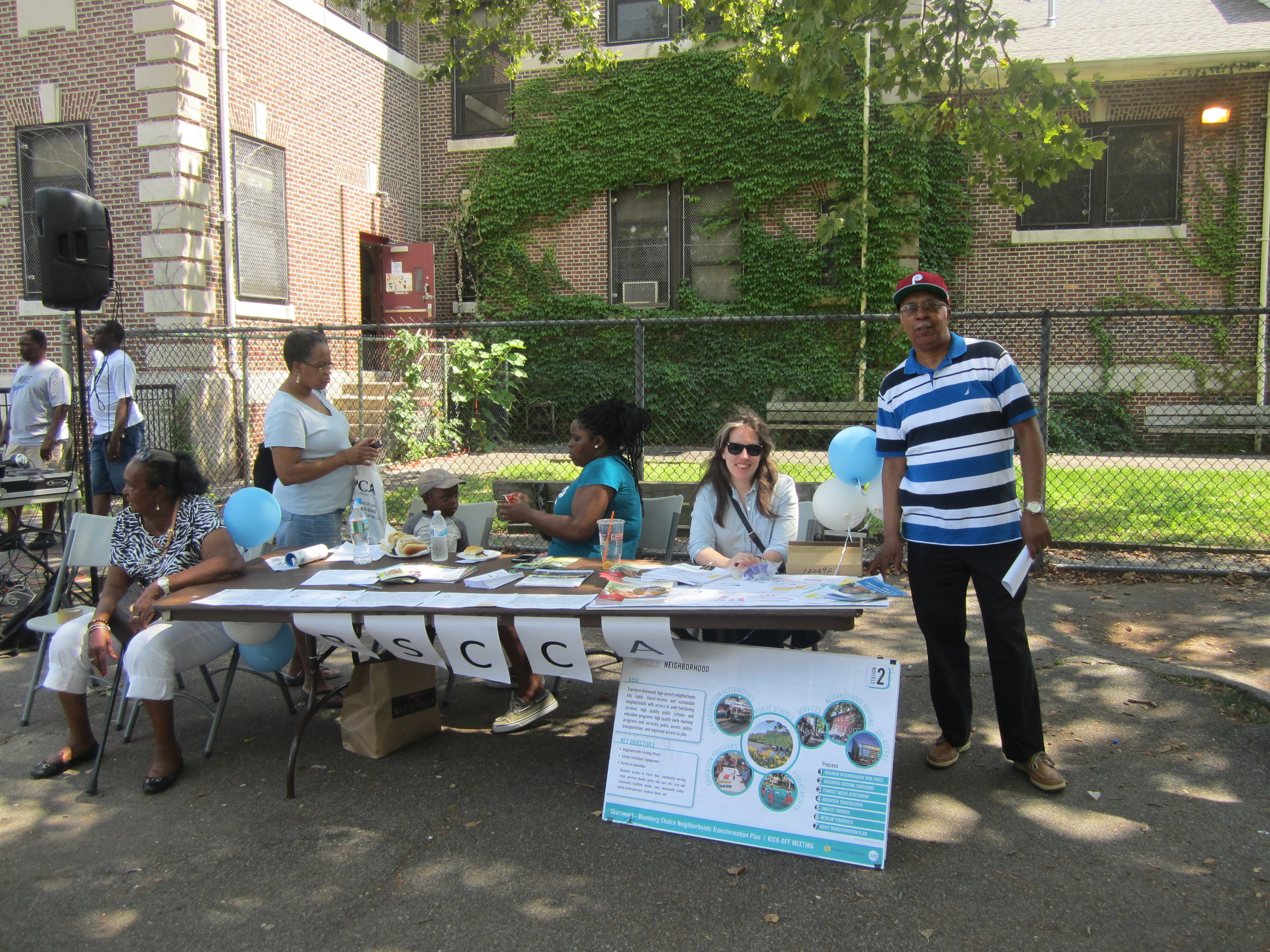 Neighborhood Plan: Goal 1
Empower Residents Through Comprehensive Workforce Development and Small Business Assistance
Throughout the neighborhood planning process, residents expressed a strong interest in sustainable economic development. Residents also wanted to maintain the fabric of the community, which means strong participation from residents and resident-owned businesses in growing the local economy. The community needs assessment data showed a great interest in entrepreneurial training and local development. The four strategies listed below reflect those objectives.
Strategy 1: Build the Organizational Capacity of the Brewerytown-Sharswood Community Civic Association
Convert a loose association of civic-minded citizens into developers and service providers in the neighborhood
1.1 Partner with Beech Interplex who will provide staff training on housing, small business, and job development, as well as resident leadership.
1.2 Rehabilitate a vacant property on Ridge Avenue to be used as a multi-purpose office building for the Brewerytown-Sharswood Community Civic Association.
1.3 Establish a Neighborhood Advisory Council through the BSCCA for Sharswood and develop a Strategic plan for the organization.
Performance Indicators and Metrics
Establishment of an office for the Brewerytown-Sharswood CommunityCivic Association
Total funds raised to complete the rehabilitation of the office
Date of completion for the Strategic Plan
Strategy 2: Establish partnerships with organizations that provide Job training opportunities
2.1 Work with PHA and the City to identify a comprehensive provider of job training and resident services that can operate programs in
the community.
2.2 Work with the Public Health Management Corporation to develop an innovation campus that will bring job training programs, social
services, and over 500 jobs to the neighborhood.
Performance Indicators and Metrics
Number enrolled in job training or other workforce development programs
Number of residents that completed job training or other workforce development programs
Number of job training attendees placed in jobs
Strategy 3: Establish opportunities for property owners to invest in the rehab of their homes to preserve the character of the neighborhood
3.1 Work with Beech Interplex to provide residents with information about the Pennsylvania Housing Finance Agency's Keystone Renovate
and Repair Loan Program.
3.2 Coordinate with Habitat for Humanity to provide residents with the Home Repair program.
3.3 Establish a partnership with local banks to provide homeowners with opportunities for low interest loans and housing counseling programs.
Performance Indicators and Metrics
Total number of residents participating in property maintenance and rehab programs
Strategy 4: Develop a small business loan fund to support resident business development on Ridge Avenue
4.1 Draft a listing of neighborhood-based or resident-owned businesses that seek investment and growth.
4.2 Partner with a local bank to develop a loan fund dedicated to supporting resident-owned small businesses on Ridge Avenue.
Performance Indicators and Metrics
Number of new resident owned businesses in the neighborhood
Number of existing resident owned businesses redeveloped as part of
Choice Neighborhoods
Partners
The following is a listing of partners that community residents identified as key to empowering residents to develop sustainable
economic growth while preserving the existing neighborhood fabric:
Philadelphia Housing Authority
Public Health Management Corporation
City Planning Commission
Habitat for Humanity
University of Pennsylvania School of Planning and Urban Design
Citizens Bank
Beech Interplex
Santander Bank
City of Philadelphia Office of Housing and Community Development
The Enterprise Center